TROIX MAGAZINE
(troixmagazine)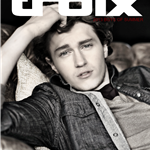 TROIX (French slang for "Three More") is a cutting edge, entertainment and pop culture international magazine available to readers and viewers around the world.

Each collectible-quality issue spotlights THREE iconic individuals or groups who despite their youth have influential power and considered "WHO TO WATCH" within fields of entertainment, glamour, fashion, music, and pop culture.

TROIX's main core is to spotlight individuals who are hip, bold, and daring; featured in an edgy, yet artistic, classy and positive way.

TROIX will never overwhelm with content. You come, you see, you listen. Then you go on with your busy young life--just a bit more fulfilled after getting a "fix" from TROIX.

In between, we'll be feeding you a few morsels. After all, we wouldn't want you going into complete withdrawal...

#DidYouKnow TROIX is completely mobile?

You should NEVER have to wait to get a #fix! You can DOWNLOAD digital PDF's of all your favorite issues and view them practically from anywhere!

Install the FREE MagCloud app to view them on your iPad OR download the PDF files for easy viewing on your iPhone or Android Phones! We also ship PRINT COPIES right to your door to anywhere in the world so you've got NO EXCUSE not to get your favorite issue!!