Joanne Morton
(trickydame)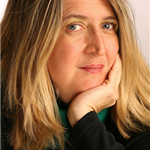 Trickydame is Joanne Morton Artist, Writer, Storyteller

Joanne Morton is an artist who uses words, images and performance to express her ideas of what it means to be living a heart-guided life in the 21st Century.

In January 2012, Joanne travelled around the country meeting others who are interested in co-creating Positive Energy as part of the MPL-USA Art Tour. She is currently working on the 2nd Edition of Trickydame's Guide to the Universe in Savannah, GA at Anahata Healing Arts.

MPL is "Magic Passion Love, a renewable, sustainable energy source found with in all of us, when used, life feels good. When shared, wow!"

Let's connect and see what kind positive energy we can co-create together on our Planet!

Allow! Feel! Live!

I am a Positive Energy Artist who is sharing and co-creating Magic Passion Love with everyoneI meet.