Annie Modesitt
(modeknit)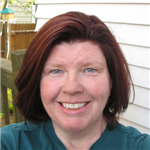 A native of Ohio, Annie taught herself to knit at age 25 before a move from NYC to Texas. The Texas tenure didn't last, but knitting did, and upon her return to the NY area Annie began knitting for other designers and designing for major knitting magazines. Her work has appeared in Interweave Knits, Vogue Knitting, Knitters Magazine, Cast On, Family Circle Easy Knitting, McCalls Needlework and several family oriented magazines.

Author of Confessions of a Knitting Heretic, Annie has contributed to many knitting books and magazines. Annie is the inventor of the astoundingly clever Flip Knit, a low tech, portable alternative to knitting videos.

Annie knits using the Combination Method and believes that there truly is no wrong way to knit. She lives in St Paul, MN with her husband, kids and assorted pets.