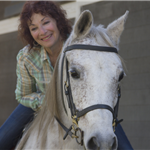 Susan Friedman (photographer/filmmaker) is an award-winning documentary filmmaker and photographer.

Friedman has been a still photographer for many years and has had one-women shows both nationally and internationally, including Tokyo, Amsterdam, Berlin, and San Francisco Her still work is collected by the Museum of Modern Art in New York, the Oakland Museum, The Santa Barbara Museum of Art, and the Bibliotheque Nationale in Paris.

In 1985 she won the SECA award in Filmmaking from SFMOMA for two of her films. Her work has been funded by the National Science Foundation, The National Endowment for the Arts, Fleishacker Foundation and The Harvard Smithsonian Center for Astrophysics among others.

Between 2007 -2012 Friedman had 6 shows of her recent work with horses. At San Francisco Museum of Modern Art ( MOMA) Café Museo, Spur Gallery in Portola Valley, SF MOMA Artist's Gallery and IWOLK Gallery and currently at Mumm winery.

She is on the faculty at the University of California, Santa Cruz. Her work can be found at www.susanfriedmanphoto.com.