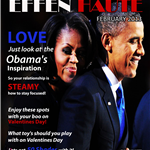 About Effen Haute Magazine

2014 BABY! Effen Haute is getting it in!

ABOUT EFFEN HAUTE.... EFFEN HAUTE MAGAZINE EDITORIAL INCLUDES: Full coverage on current news, hip-hop, fashion, events, technology, arts and business.

Social Media Promotions/ EMAIL MARKETING: Are you in need of exposing your event, talent or business on all the popular social media platforms as well as our email list on a consistent basis to ensure maximum exposure!?

Do you have a sale, or are in need of actively recruiting people for events or business ventures?!.. But you do not have the time?!..

Well hire Effen Haute we will maintain all of your social media platforms and assist you in building content to promote to all of your followers so everyone is tuned in to all the wonderful sales, events or talent you have to offer...

We can start your social media pages or maintain your social media pages... We will collaboratively increase awareness to your brand!

NEED HELP LAUNCHING YOUR BRAND - BUSINESS PR MANAGEMENT EFFEN HAUTE will customize a special event package and marketing campaign to support, promote and "test" your brand amongst exclusive sets within our unique audience of tastemakers and trendsetters.

SOCIAL MEDIA - EMAIL BLASTS AND WEBSITE BUILDING WE WILL TAKE YOUR BUSINESS, TALENT OR EVENT TO THE NEXT LEVEL STRATEGICALLY INCREASING BRAND AWARENESS.

EVENTS EFFEN HAUTE will have a series of events inviting all who have been featured or involved in the creation of the issue for the month. These events will include advertisers, featured artists, models, contributors and most importantly, the cover artist. This event will take place in various venues throughout the year, based on the cover artist and open to invited tastemakers and industry insiders.

WEB DESIGN We create websites for small business owners at such an affordable rate - $350 for the build up that comes with 1 month of FREE maintenance and consulting as well as teaching you how to rock out and update it on your own!!! Lets go!!!