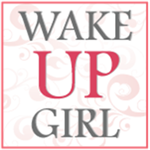 wakeUPgirl.com is a multi-media platform with a mission to INSPIRE WOMEN TO WAKE UP! Through our engaging radio show, nationally recognized magazine and positive TV programming, we showcase women who are the leaders, the innovators and the activists who are Sounding the Alarm for all women to WAKE UP and go for their dreams.

WakeUPgirl Magazine is the jewel in the wakeUPgirl crown. Our professional design and editorial team make our magazine informative, creative and dynamically suitable for a wide range of women. We took great care to ensure that our content is relevant for anyone from a college student, to CEO, to housewife, to entrepreneur, to political official to First Lady.

We educate, inspire and empower women by bringing resources, information and a community of mentor's to your doorstep, all you have to do is open the door.

Ladies, it's time to stop pressing snooze on the very vision that was meant to transform lives, families, communities and the world! We promise that wakeUPgirl Magazine will be the platform for you to activate your passion, purpose and dreams.