IN BLACK MAGAZINE IN BLVCK
(TSDIMAGE)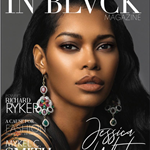 The Vision INBLVCK MAGAZINE is comprised of "new wave," art, fashion, entertainment, culture, news, style and trends. It provides a visual experience designed to showcase the beauty in all walks of life with the artistic finesse' and romantic approach. More than a magazine, INBLVCK is brand expression without barriers for a more conscious society. This feat is accomplished by utilizing all media facets: web, social media platforms, key relationships and influences. "Network equals net worth," such forefront thinking allows for complete saturation of "new wave" millennials, influencers, tastemakers, entertainers, celebrities, fashionistas and those who follow such movements.

CREATE AND SHOW

A submission based magazine, INBLVCK allows talented artists to submit their work to showcase to potential clients in the various fields within the arts. Photographers, Beauty Artist, Hair Stylists and Wardrobe Experts, Influencers, Dancers, Performers and Celebrities are welcome to this platform, free of the technical inhibitions that keep artists from true open expression. JUST SIMPLY CREATE AND SHARE YOUR ART.

WE ARE IN LOVE • IN LIFE • IN BLVCK!