Keri Looijen
(TrueNorthPinUpMagazine)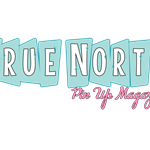 True North Pin Up Magazine, the ONLY Canadian Pin Up magazine.

Featuring all Canadian content, pin up models, photographers, rockabilly bands, artists, and shops. All the fun parts of vintage life.

For the rockin' and rollin' cuties, the victory rolled, red-lipped dolls and the slicked back, leather-clad dudes. A magazine specializing in the vintage-inspired lifestyles of yesteryear.