Esther St. Juste
(touch-someone)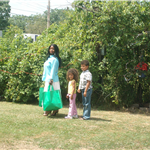 Esther St. Juste Bondi (AKA Esther St. Juste) is bless with two beautiful children. My son name is Joseph and daughter Hadassah a blessing in my life. Most importantly, I am a born again christian, and I love my Lord Jesus Christ who has saved me from my sin.
I am the CO-FOUNDER of THE HURTING MOTHERS' PROJECT INC. It is about reaching and giving.
The BEAUTY Of Giving is like a flower blossoming, and it has reached its essence of nature that spreads far beyond its depth. When giving to those in need, it showers its fragrance in the lives of the needy whose hope is hopelessness, despairs, hardships, struggles and especially, losing everything that he or she works or worked hard for. Once reaching out and touch these lost souls in need, it shows them that in the midst of it all, the boundary of love has opened its giving windows of heaven like an arch of a beautiful bright rainbow of colors that illuminates their hearts and send a signal to them that the Lord has opened the hearts of those who'd love to give to those in need. "Three things will last forever-faith, hope, and love-and the greatest of these is love."(1Corinthians 13:13 Life Application Bible) Love builds a strong bridge that will never fall, but reaching far beyond to those tremendously in need, it will soothing a broken heart. Yet, it will reconstruct a smile in a hurting face. Nevertheless, love will heal the lives of those who are experiencing the painful pain, and yes, it will gradually smoothing the pain away just by reaching and giving. The outcome of the individual giving will one day reaps what he or she have sown; therefore, he or she will grasp his or her joy of giving. Least but not least, love finds in Jesus Christ, and God's love will never fade away and yet will never diminished, but it will last he or she a life time guaranteed with out no down payment; neither put in a lay way. God's love embraced the lives of those who come to Him just as they are; whether in need, want, hurt and lost, but will found.
ohioresidentdb.com/person/OH0019196467/esther_bondi
casting360.com/portfolio/?view=2110078