Thistle Magazine
(thistlemag)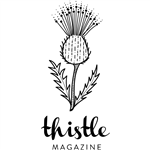 following pathways into the past - thistle magazine, n. an experience of the infinite variety & intimacy of life; an atlas of souls, past and present. OUR MISSION: Thistle Magazine is an atlas of intricate avenues and rivers within the hearts and limbs of growing souls. We are in the here and now, yet remain intrigued by what ties us to the past. We are interested in the overlooked and unexpected, the long-lost and unknown, the footnotes and etceteras. We seek your art, your words, your dreams and constellations; the memories and visions of your curious heart. Thistle is for those who long to be reminded of the beauty and wonder that we have today. Thistle is for those who long to explore where it comes from.
Standard

/

8.25" x 10.75"

Thistle's MYTHOLOGY Issue features an abundance of breathtaking creative writing from both our staff and readers, as well as artwork and an interview…

Standard

/

8.25" x 10.75"

Among the pages you'll find house plant advice, musing on Angela Carter, an interview with Lara Bispinck and our spring playlist, plus lots more. Our…

Standard

/

8.25" x 10.75"
Portraits is a mini-issue by the staff of Thistle Magazine. Each story and image was created exclusively by Thistle staff members so you can get to…