The Guide Artists Magazine
(theguideartists)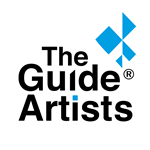 The Guide Artists is a monthly magazine dedicated to showcasing the best in international contemporary art. First published in 2017, the magazine has already presented some of the most recognizable names in realism, allowing their work to become accessible to a wide audience.

The editors are passionate and knowledgeable about art and, each month, they invite artists to participate based upon their skill and unique voice. Every article in The Guide Artists is written from the artist's perspective and dedicated to giving them the opportunity to present their work and the individual behind it.

The unique and luxurious layout of the magazine, with its generously proportioned articles, offers ample space for large format images, as well as biographies and interviews with the artists. They feel like printed solo shows that allow the reader to immerse themselves in the work of each creative. The Guide Artists combines its publishing role with an active social media presence. Thanks to regular contributions and a steadily growing community on social media channels, such as Instagram and Facebook, The Guide Artists is further able to grow the reputations of the artists it publishes.