SWOLLEN EYEPRODUCTIONS
(swolleneyeproductions)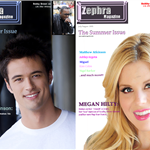 ZEPHRA MAGAZINE is a metropolitan celebrity interview magazine featuring exclusive interviews with today's top trendsetters.

The second issue of ZEPHRA MAGAZINE, which was released on June 16, 2012, features a double cover. One with the star of NBC's monster hit "Smash", MEGAN HILTY and the other cover features "Young Hollywood's" rising star, ABC Family's "Jane by Design" star, MATTHEW ATKINSON. Also featured in this issue is an exclusive interview with Whitney Houston's ex-husband, BOBBY BROWN and his new wife, Alicia Etheredge-Brown, Kim Coles, star of OWN's "Are You Normal, America?" and TV Land's "Soul Man", Nickelodeon's Ashley Argota, former "America's Next Top Model" judge, Nigel Barker and several more.

The premiere issue of ZEPHRA MAGAZINE featured international superstar Tyrese, ABC's "The Chew" co-host Carla Hall, Fashion Designer Christian Siriano and several others.

ZEPHRA MAGAZINE is produced by Brooklyn, New York-based SwollenEye Productions, LLc (www.swolleneyeproductions.com).

For press inquiries or information, please contact Styx Stein at pr@swolleneyeproductions.com.