Strategies California
(strategies)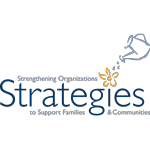 Strategies is a nationally recognized alliance of experienced trainers, organizational development coaches, facilitators, and support staff providing training, coaching, facilitation, and technical assistance for community-based organizations, county agencies, and networks. Strategies' focus is child abuse and neglect prevention and early intervention.

Strategies has offices across California in Butte, Ventura, and Orange Counties. Our diverse and committed staff provides individual attention and hands-on, real-world learning to help organizations reach their professional goals. We provide services using methods that are research-based, people-centered, experiential, and adapt to situation and culture.

Strategies can assist family strengthening organizations, agencies, and networks with achieving staff skill development, individualized learning objectives they may not be able to accomplish without assistance, increasing capacity, enhancing sustainability, uniting staff in achieving common goals, and motivating leaders.

The California Department of Social Services, Office of Child Abuse Prevention (OCAP), established Strategies in 1997 to provide outreach, education dissemination, training, and technical assistance to enhance the capacity of California organizations in preventing child abuse and neglect.