Queen Tourmaline
(soulgrowthzodiac)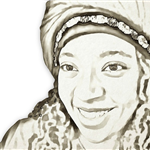 Queen Tourmaline is a writer and intuitive counselor who helps people tune into their purpose and passion in life.

Through her digital courses, intuitive card readings, and podcast, she helps spread the message that it's time for each individual to stand up and claim the power that has always been within.

Queen Tourmaline's main message is: "If I could accomplish anything in this life, it would be to teach others how to teach themselves to recognize their own gifts and skills. It's important to master yourself or someone else is going to master you."