Sharon Chinn
(sharonchinn)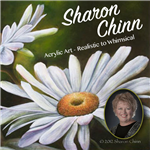 Acrylic Art - Whimsical to Realistic

Get My Patterns & Books in Printed Format By Mail

I'm a self-taught artist who has been painting for 40 years and designing painting pattern tutorials since 1985. I work primarily in acrylics, but like to change it up once in a while and try other mediums. I like whimsical designs with a touch of humor.