Sanctuary Magazine
(SanctuaryMagazine)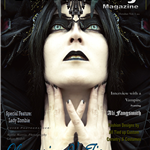 Established 2014, Sanctuary Magazine is a magazine that caters to the dark side. featuring established as well as new upcoming models, fashion designers, interviews & reviews, entertainment & art, profiles,underground lifestyle articles and events,we at Sanctuary welcome all.

To purchase our magazine please go to sanctuarymagazine.magcloud.com or visit us at www.sanctuarymagazine.net

Published by King Jay and Queen Gotica, Sanctuary Magazine will be America's new outlet to the dark side.