Nicholas Breeze Wood
(sacredhoop)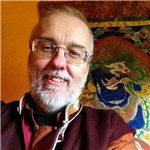 Publisher of Sacred Hoop Magazine since 1993. Shamanic practitioner, artist and craftsman.
Sacred Hoop Magazine is the world's leading magazine about shamanism and shamanic spirituality.
A Little Book of Revealing - Ancient Divination Methods from the Silk Road and Tibet

The Visual Art of Nicholas Breeze Wood - A Retrospective

Standard

/

8.25" x 10.75"

A full colour book about the shaman's of Mongolia and Siberia. The book looks at original drum traditions, and gives pointers for using drums in…

Standard

/

8.25" x 10.75"