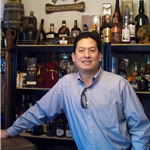 Luis K. Ayala is no stranger to rum. With close to two decades of hands-on experience, from judging at international rum competitions and tastings to assisting distilleries in the production of new rums, he has witnessed -and written- about all aspects of the rum industry. His books include: The Rum Experience, The Encyclopedia of Rum Drinks, The 2002-2003 Rum Buyer's Guide and American Rum.
In 2001, Mr. Ayala, along with his wife and partner, Margaret, founded Rum Runner Press Inc., a company devoted to servicing the needs of the rum industry, from education and training to production and special events. Today Rum Runner Press publishes the world's only monthly Rum Magazine ("Got Rum?") which is read by tens of thousands of rum aficionados around the globe.
Mr. Ayala's reputation as a rum lover and an expert in the field is well known. To date he is the most published rum author in the world. In September of 2002 he was the recipient of the International Rum Festival's Platinum Award for his "Global education and promotion of rum."
In 2006, Luis Ayala was asked to work with Georg Riedel (from Riedel Crystal) to develop the first ever Riedel Rum Glass for Ron Zacapa Centenario.
As a member of the American Distilling Institute, Mr. Ayala has helped organize and conduct tasting competitions for rum (2007) and whiskey (2008). His consulting clients include some of the largest rum producers in the world, as well as some of the smallest craft distillers.
Luis and Margaret Ayala have visited many of the leading producers of rum around the world. Together they offer consulting services to the rum industry, in the form of Seminars, Tasting Classes, Competition Logistics, Organoleptic Assessments and Product Development. Luis and Margaret are also Directors and Instructors at The Rum University.
To contact Luis, please visit .