Empire Radio Magazine
(rnaylorjr)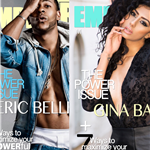 MUSIC, CULTURE, ENTERTAINMENT & LIFESTYLE

Empire Radio Magazine is an urban-based American LIFESTYLE publication with a unique international twist. Equipped with a diverse team located in multiple cities and countries around the world (Los Angeles, Orlando, Hampton Va, Dubai, London, Italy, Paris, New York, North Carolina, Chicago), Team ERM (Empire Radio magazine) provides maximum exposure to well known and overlooked musicians, entrepreneurs, actors, models, athletes, artists, fashion designers, stylists and more. In the name of culture edification, we endorse talent over popularity, ignoring drama, gossip and other negativity that stifles creativity. Our publication is a conflation of contemporary and vintage as noted by our features of legendary artists of past generations as well as talent on the rise. Although we are urban-based, we swim in the streams of alternative markets exercising the diverse taste we as well as many of our readers possess. We live by and encourage others to adopt our "Think Global" mindset understanding that anything is possible.

Think global not local is our mantra and simply means don't limit yourself. We don't follow the wave of what's popular and we always think outside of the box in efforts to promote, educate and inspire. Founded on the conviction that talent has no expiration date, we don't feed into the colloquial ideas of microwavable pop culture. When it comes to music, culture, entertainment and lifestyle, we are fearless in expressing our own unique perspective. Our goal is to promote speech, visual images and music to create a group of nations ruled over by talent.

Our official website is the vehicle that drives our content distribution. In December 2014, we reached over 1 MILLION total hits and garnered just over 200,000 subscribers. Our social networking presence is spearheaded by our Twitter page, which has 31.7K followers (and growing) as of January 2015. Far from your quintessential publication, we provide a bi-monthly print and digital editorial experience available via EmpireRadioMagazine.com. We also keep our readers stimulated with daily updates to include interviews, current events, new music, giveaways and more via our official website. Adored and appreciated by artists, publicists and readers, Empire Radio Magazine is a linchpin for brand building. We've had the opportunity to feature some of the most talented well-known and unknown talent the world over. Some of our notable covers and features include French Montana, K. Michelle, Elle Varner, Bobby V., Prince Ea, Timeflies, Tyrese Gibson, Rev Run, Judith Hill, Jermaine Dupri and Skyzoo.

Brand Building and sustainment is our ultimate mission. Tastefully marketing our clients through insightful interviews and aesthetically pleasing images is our forte. Exclusive cover shoots, thought provoking editorials, insightful interviews and event coverage are pillars in constructing both our empire as well as yours.