Rachelle Krieger
(Rachelle)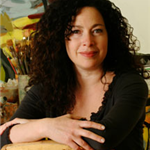 Rachelle Krieger was born in New York City in 1967. Her work has been exhibited extensively both nationally and internationally in solo and group shows, and was recently featured in The Heckscher Museum of Art's inaugural Long Island Biennial.

A select example of exhibits include those at Susan Eley Fine Art in NYC, the Dorian Grey Gallery in NYC, the Judi Rotenberg Gallery in Boston, the Simon Gallery in New Jersey, the Mulligan-Shanoski Gallery in San Francisco, the Wyndy Morehead Gallery in New Orleans, the Karen Mitchell Frank Gallery in Dallas, the Federal Building in NYC, and the Taylor Jardine Gallery in London.

An award-winning painter, Rachelle Krieger has been honored with the Mark Rothko Memorial Scholarship, the Alexander Medal, and the Award for Excellence in Design from Pratt Institute. She received a BFA from Pratt Institute in 1989, and has studied at the Art Students League and New York Studio School in Manhattan.

Her paintings are part of numerous private and corporate collections including those of the Texas State Bank, Teleflex, Quadel Consulting Corp., Hale & Dorr, Potomac Management Co., and Rauscher Pierce.

Krieger currently serves on the Art Advisory Council for the Port Washington Public Library Gallery.