Plush Curves International Magazine
(PlushCurvesProductions)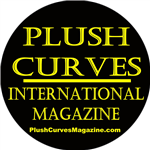 (Plush – elegant, richly luxurious, glamorous, greatly desired)

Plush Curves International Magazine is our way of presenting the beauty found in all women, no matter her shape, size, age(18+), nationality, etc. We collaborate with ladies and photographers from around the world to gather photographs and stories for readers to enjoy. Our magazines are the highest quality found on the shelves today with each issue being a collectible issue you will love to have in your collection.

Want to be published in one of our magazines? Visit PlushCurvesMagazine.com for details.