Inprint Photo Magazine
(Piercinglitestudios)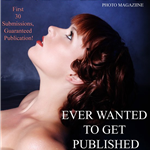 Calling All Photographers!!!!

(FREE DIGITAL TEAR SHEET IN SELECTED MENTIONED AREAS UPON SUBMISSION)

Ever wanted your photos in a magazine well InPrint Photo Magazine is dedicated to helping upcoming photographers like yourself get published! All you have to do is buy the print when it comes out and you'll have an instant tear sheet to talk about. The theme for the sixth issue is FUTURISTIC FASHION!

SUBMIT TO THE JANUARY ISSUE!!!!

THEME: FUTURISTIC FASHION (Words of inspiration: metallic, avant garde, crazy, graphic design, etc...) The theme is not limited to these words have fun with this theme! Let's Get FUTURISTIC!

Submit to inprintphoto@yahoo.com 1- 4 photos

Requirements:

-Must be the photographer who took the photo! (Obvious but a must!)

-Your Business Email Address and your online portfolio

-Tell us about the photo: the people involved, credits, location, etc

-Submit in 1-4 photos in High JPEG format Please refrain from adding borders, watermarks, or text of any kind.

-Make sure all images have a resolution of at least 300 pixels per inch and should be at least 2550 pixels by 3300 pixels.

Look Forward To Seeing Your Submission!