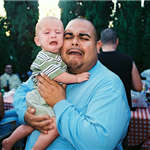 Photographer Mark Velasquez was born and raised in Santa Maria, California. In 2000 he received his BFA from Cornish College in Seattle. Since then he has worked with models across Europe and the Americas, documenting his travels and spreading his unique sense of humor and creative energy along the way.

He survived eight out of ten challenges on the first season of Bravo's reality competition "Work Of Art: The Next Great Artist" in 2010. Somehow his family still remains proud of him.

Today he can be found somewhere on the West Coast, camera in hand, mind reeling.
This book celebrates the past hundred years of Masatani's Market in Guadalupe, California. The family-run store has been a second home to the…

Standard

/

8.25" x 10.75"

Print + Digital:

$27.80

Digital:

$0.99

Standard

/

8.25" x 10.75"

Print + Digital:

$23.40

Digital:

$8.00

After almost 40 years as owners/operators of Tom's Take Out, The Velasquez Family sold the business at the end of 2015. This nearly hundred page book…

Standard

/

8.25" x 10.75"

Print:

$29.99

Digital:

$15.99
This large, hundred page booklet is a retrospective of both my creative work and collaborative relationship with my dear friend Erika. Spanning over…

Standard

/

8.25" x 10.75"

Print:

$27.99

Digital:

$9.99

This beautiful, 34-page zine is an intimate look at the 2020 Harvest of Amplify Wines, a family owned organic winery in Santa Barbara County.

Standard

/

8.25" x 10.75"

Print + Digital:

$12.00

Digital:

$6.00

Un Lobo en Tunîca de Reina (A Wolf in the Robes of a Queen) A poem in prose and photographs of the muse Cam Damage. Featuring over 100 pages of…

Print:

$28.99

Digital:

$9.99
ATOSAKI: Volume 2 features the continuation of this exciting new sci-fi series! Follow teenage slave Arc as he escapes the confines of the dangerous…

Standard

/

8.25" x 10.75"

Print + Digital:

$25.00

Digital:

$5.00

ATOSAKI: Volume 0 is a dynamic reflection of the mood and feeling of this new sci-fi series! Vol. 0 features an abstract overview of the whole,…

Standard

/

8.25" x 10.75"

ATOSAKI: Volume 1 is an exciting glimpse into this new sci-fi series! Vol. 1 features an abstract hint of the origin story of the main character…

Standard

/

8.25" x 10.75"

Print + Digital:

$19.00

Digital:

$5.99