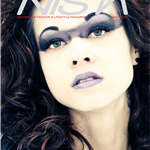 Nista Magazine launched on January, 2011. We began as free online magazine that featured First Nation artists, musicians, storytellers, authors and so much more.

There is no other magazine like Nista. We believe in hard work and determination and will recognize those achievements through our magazine - through the talented people.

We want to inspire others to be creative and rise above. We will be the outlet for this creativity, so the world will see how much talent there is with First Nation people.

We are always looking for talent to be featured. In contrast, we are looking for talent to work with us also.

Nista is cree for "I, too; I by contrast; I myself" or "to be included". We want to include everyone with our magazine.