The Next Truth; Where Science and Myth Meet
(MariaAnna)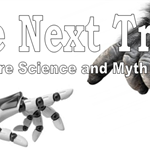 The Next Truth is a young and energetic magazine covering both systems of acquiring knowledge that use observation, experimentation, and replication to describe and explain natural phenomena known as Science and Noetic Sciences, a multidisciplinary field that brings objective scientific tools and techniques together with subjective inner knowing. In other words … Where Science and Myth Meet.
Her contributors are open-minded experts and citizen scientists who show you what it is like to be Alice in wonderland. By combining 'accepted' science and the still 'unexplained events' in life they let you understand their progressive ideas and groundbreaking experiments in new science and invite YOU into the wonderland of science. Revealing some of their thoughts and research they discuss various topics like e.g. new laws in Physics, Theoretical Physics merging with advanced Engineering, Theology explained with Particle Physics, the connection between Physical Chemistry and Human Evolution, the purpose of black holes, the Big Bang, and the origin of the Universe we are swirling in.
All with the biggest philosophical question; 'What if…?!
What to expect? … the most intriguing stories, extraordinary interviews, amazing stories, mind dazzling articles, advanced dimensional research, and much more… Even new and varied discoveries are leading to more questions and theories each day, the mystery of human consciousness is slowly unfolding… will it reveal the answer to the one question; Where do we come from?
The contributors of The Next Truth, who are by far, our bravest pioneers in this new field of science, are trying to find a plausible answer to secrets, which the Universe is still holding.