Longe Magazine
(longemagazine)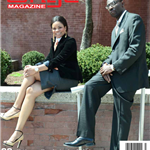 Our Mission:

Longé Magazine was created for today's avid and trendy reader looking for the inside track in business, finance, entertainment and fashion. Unlike other magazine companies that use manipulative tactics to attract their readers, Longé Magazine sets out to create a magazine focusing on the reader's craving for an informative source that provides a clear direction, resources and testimonies from entrepreneurs while simultaneously not having the stylistic tone of a lecture. Moreover, the information provided in the magazine would be easily applicable to the real world as readers take on the challenging yet rewarding task of starting a business.



Longé Magazine is a dynamic reading piece that covers the essential details of how a business becomes successful. It will enlighten aspiring entrepreneurs with information on business structures and operations for the corporate, entertainment and fashion world. Its purpose is not only to provide success stories about businesses, but also to help create the future success stories for others.



Our Vision:

Our vision is to create a reading masterpiece that can become the manual for those wanting to start his/her own business. Furthermore, Longé Magazine wants to enhance the knowledge of those who may already own companies but might need more insight on what can potentially benefit or harm their business.