LaShanda Henry
(lhenry95)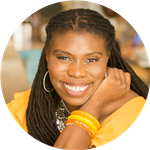 Web Designer, Web Coach, and full time Work at Home Mom. Best known for my websites - Multiple Shades of You Online, SistaSense Blog for Entrepreneurs, Black Business Women Online, and the Black Moms Club.
Motivational Journal for Women Entrepreneurs

Standard

/

8.25" x 10.75"

31 Day Motivational Journal

Standard

/

10.75" x 8.25"
Caribbean Issue - BRITE Colours Magazine is an Afro-Positive Children's magazine for ages 2-12. It is designed with African American Children /…

Print + Digital:

$4.95

Digital:

$1.95

Blacks / African Americans in Science Issue - BRITE Colours Magazine is an Afro-Positive Children's magazine for ages 2-12. It is designed with…

Print + Digital:

$4.95

Digital:

$1.95

BRITE Colours Magazine is an Afro-Positive Children's magazine for ages 2-12. It is designed with African American Children / Black Children /…

Print + Digital:

$6.95

Digital:

$2.95
The Black Women Online guide created by LaShanda Henry (aka SistaSense) showcases websites created for and/or by members of Black Business Women…

Print + Digital:

$8.95

Digital:

$1.95