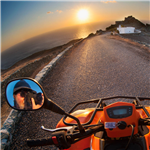 Larry Angier of Jackson, California travels rural America and more recently Greece and Serbia photographing people, places and the cultural landscape. At his studio in Jackson, California, he electronically crafts his custom-created photographs into both fine-art prints and canvas in his digital print lab. His work spans a career of more than 40 years based in the Mother Lode.

Larry's editorial photography appears in RANGE, VIA, and Nevada magazines. Sutter Gold Mine, Amador Vintners and Amador Council of Tourism feature his commercial and industrial photography regularly. Recent books showcasing his work include This Land of the Free (2008), Red Meat Survivors (2010) and Go West (2012).

His work is included in the collections of the University of the Pacific in Stockton, National Steinbeck Center in Salinas and the Museum of Northeastern Nevada in Elko. Recent exhibitions include the Mission Portfolio Workshop series at the National Steinbeck Center, Salinas, (2009-2012), Clarks Corner, Ione and Chaos Glassworks, Sutter Creek (2012). His work is currently on permanent display at the American Exchange Hotel, Sutter Creek and the Jackson Rancheria Resort and Casino Hotel, Jackson. Both feature his work of Amador County. Larry's photographs: San Juan Mission–Revisions is on exhibition at the National Steinbeck Center through April 7, 2013. His photographs of the sacred artwork of the Serbian Orthodox in America created by iconographer Miloje Milinkovic hangs in Belgrade, Serbia.

Larry is a member of the American Society of Media Photographers (ASMP), National Association of Photoshop Professionals (NAPP), and the Amador Council of Tourism (ACT). He is the editor emeritus of ASMP's NorCal Quarterly and continues as the webmaster for RANGE magazine. He teaches photo workshops in fair photography, lighting, electronic photography and fine-art portfolio production. He continues as the technical advisor, instructor and archivist for Shooting the West, an annual photography symposium in Winnemucca, Nevada, soon to celebrate its 25th year in March.

You may enjoy Larry's work at www.angier-fox.photoshelter.com, or follow him on Twitter @larryangier or Facebook: www.facebook.com/larry.angier or become a fan at http://www.facebook.com/pages/Amador-Countys-Photographers.