Janna and Kyo Morishima
(kyomorishimaphotography)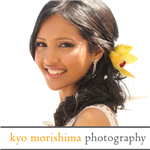 We are a husband-and-wife team specializing in weddings and portraits. We love to work with clients who are as excited about photography and art as we are, and who like to do things a little differently.
Highlights from "Celebrate Miss Alice Night" in Metuchen, August 2012.

Print + Digital:

$15.00

Digital:

Free!

Discover the ABC of Kids. From adventurous, blissful, and cozy, to exuberant, yummy, and zestful, this book showcases children's portraits by Kyo…

Print + Digital:

$10.00

Digital:

Free!