Jeanette Carlstrom
(Kidsart)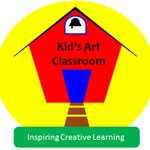 Kids Art Classroom is where you will find educational, fun, and easy to teach art lessons for kids of all ages. These lessons follow California standards and curriculum, and are a joy to teach. Whether you are a homeschooler, student, parent, or teacher, our art lessons are catered to you! All of our lessons are designed in such a way that is both instructional and creative, with a drive towards getting students motivated about art, instead of just making crafts.

It is easy in today's society to lose the ability to create art with one's hands, with computers taking charge of next to everything we do (including education). We want everyone to retain that age old ability to create masterpieces with their hands. Art education is so very important and it is our belief that children should be taught to create art at a very young age. It is never too late to start learning about the creative world of art! Jeanette Carlstrom, the creator of Kids Art Classroom, is an art teacher, artist, and illustrator living in the San Fransisco Bay Area teaching children how to love art. She is currently illustrating a children's book, working on new art lessons, and painting in her studio.

This is Kids Art Classroom, and behind it is a family with a passion for art, education, and fun. Our slogan is "Inspiring Creative Learning" and we mean it!