Keith O'Brien
(KeyShopProductions)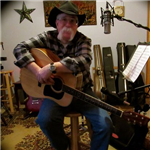 Hello, my name is Keith O'Brien. I am a Musician, Singer, Song Writer and Music Arranger. I perform cover versions of songs by other Artists at Open-Mics and original songs I've written as well to see how they work in front of a live audiance. I studied music at Queensboro Community College in the 70's. I first started out my studies in college to become a Music Therapist. While at Queensboro Community College I took Music Theory, Counterpoint, Harmony, Piano, Chorus, Sight Singing and various music history classes. I decided I liked creating music better as I learned more and took more classes around composition. I grew up in the Queens, New York part of Floral Park. Like many musicians just starting out, I played in several bands with other local musicians from my neighborhood.

I played in one band that was a rock group called "Five O'Clock Shadow" (not the a cappella group of the same name), we did covers of songs like; Rock And Roll Hoochie Coo, Bony Merony and 25 or 6 To Four. Another band I played in was a Bluegrass band called "Stars And Bars." While in this band we played old bluegrass style chestnuts and during that time I wrote an original song that I called Faithful Love.

While I was in college I was active in my community. In the summer of 1975 after I did a performance in a Church Talent Show I was asked to join the Our Lady of the Snows Church Folk Group as a guitarist. After several years I was the main guitarist and played every Sunday from September of 1975 through January of 1992. During this time I was asked by the Pastor to become involved with a Children's Folk Group, I would help out Youth Ministers in teaching the children of the parish of Our Lady of the Snows songs that they would then sing at a special Children's Mass once a month in the church. During the Christmas Season the Folk Group would be invited to sing in a Advent or Christmas Concert, depending on the date selected by the Parish Music Director (The Church Organist) at the time. The Folk Group and the Children's Folk Group would then do the appropriate Seasonal music.

While in college I changed my Major from Music to Science and graduated with an A.A.S. Degree in Environmental Health with a Minor in Music and tried to find work. After getting married to my wife, Helen, I decided to find work and while it wasn't in music, I still played at Church and doing local shows at bars and coffee houses and I kept writing music. I have since retired from my full time job and in my retirement, I've decided to get back to music. I am taking the music I wrote over the last 30 to 45 years and polishing it up and publishing it for the Public. I hope something I've written over the years is interesting to someone else and I hope you all purchase something I've written and maybe someone will record what I've written and as they have a hit song, I will also become famous. (LOL - and hopefully in my life time)

If you have found a song or composition that you would like to purchase for multiple musicians to perform as a small group, band, orchestra or would like just Piano or Guitar with the Main Vocal, just contact me at keyshop57@aol.com and I can extract the parts as you'd like and I'll make them available here through MagCloud.

Thank you for reading this and hopefully you will have an interest in my songs.