Jute Magazine
(JuteMagazine)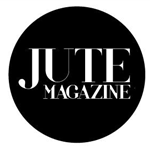 Jute magazine celebrates the individual fashionista. It's about fashion at all levels and finding your own style by mixing and matching. We love everything from Gucci to Guess to Goodwill. It's not about where the clothes come from, it's how you wear them.

Jute releases monthly, so we're always accepting editorials in addition to webitorials and faces features. You can check out our Pinterest to find themes for upcoming issues.

Please feel free to contact us with any questions! info@jutefashionmagazine.com.