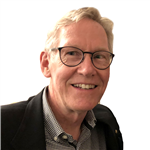 Architect, urban planner, author and professional illustrator, Jim Leggitt, FAIA has been practicing for over forty years in Denver, Colorado. Principal of Leggitt Studio LLC, Jim specializes in conceptual design, community planning, team collaboration and visualization. Jim combines his quick hand drawing skills with decades of architectural design and urban planning experience on projects ranging from small community blocks to large scale city planning.

An expert with downtown and corridor planning, public engagement, 3D SketchUp modeling and conceptual visualization, Jim has participated in countless project charrettes leading the design process and generating quick hand drawn sketches that reflect place-making options and opportunities that come from revitalization of underutilized properties, neglected public spaces and poor pedestrian/bike connectivity.

Leggitt authored DRAWING SHORTCUTS: Developing Quick Drawing Skills Using Today's Technology, published in 2002 by John Wiley and Sons. His book featured drawings from many of Jim's community planning projects and was adopted by over 50 universities and published in four languages. Jim's updated DRAWING SHORTCUTS Second Edition was published in 2010 and features many new hybrid methods of design visualization that integrate traditional hand drawing techniques with digital imaging. Jim's popular Blog articles about drawing have been viewed by more than one-half million individuals.

Leggitt is a Fellow with the American Institute of Architects and has been an adjunct professor at the University of Colorado Denver College of Architecture and Planning. He often lectures on the subject of "New Trends in Design Visualization" at national and regional conferences and has taught drawing workshops throughout the United States and Canada at universities, professional organizations and design firms.