JENESIS Magazine
(JENESISMag)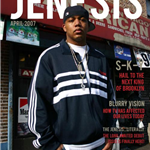 JENESIS Magazine is a magazine founded on a dream. Designed to meet the needs of hard working individuals, JENESIS Magazine meshes together not only the city's urban society with local and national updates on music, the latest in fashion, news, and events but also brings in influences of international happenings also. JENESIS is targeted towards 18-34 year old men and women. Our vision is for this publication to appeal to people of both sexes, from diverse backgrounds and a multitude of races. Everyone from Professionals, to hip-hoppers, to punk rockers and so on.

JENESIS Magazine is a monthly online publication that is made available to readers for Free. Our reading audience extends to over 5,700 cities in 150 countries with 78% in the Continental United States and 22.4% in other countries with the top 3 being Canada, United Kingdom, and Germany. We've also connected with such places as Australia, France, Spain, China, and Brazil just to name a few.

JENESIS has featured people based locally, nationally, and internationally consisting with people such as:

DJ's Mick Boogie, DJ Drama, DJ Smallz, DJ EV, Girl Talk, Recording Artist Joe Budden, Asher Roth, B.o.B, Skyzoo, Sirius Satellite/Lip Service Host Angela Yee, Comedian Kevin Hart, Actresses Sheryl Lee Ralph, Angell Conwell, Paige Hurd, Professional Athletes Allan Houston (NY Knicks), Kerry Rhodes (NY Jets), Darrelle Revis (NY Jets), Shaun Livingston (Memphis Grizzlies), and Local Entreprenuers Wiz Khalifa (recording artist), Monty Meza-Clay (professional boxer), Anthony M. (national music producer), DJ's Nugget, Bonics, and Zimmie.