Hyperrealism Magazine
(HyperMag)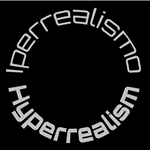 HYPERREALISM MAGAZINE "HYPERMAG"
is the first and one magazine (digital & print version) fully dedicated to the Hyperrealism Art.
This project is born from a deep passion about the art world and above all Hyperrealism. We love to get in touch with so many excellent talents in this field, to learn and know the various artists' points of view that live and keep on their work from different parts of the world. We love to share their stories because we think that people need to know them, with difficulties and successes. We think that the hyperrealistic art movement deserves more attention and diffusion.
Our mission is to encourage and promote talented artists from all over the world, whose work revolves around realistic and hyperrealistic style. Alongside emerging and mid-career painters with the big names of Hyperrealism world, we want to be an important display and give the proper attentions to artists which show a talent beyond the normal.
We created HyperMag in 2018: the first and one art magazine fully dedicated to contemporary Hyperrealism and Realism, available worldwide and published in digital and print version. We feature artists from all over the world, creating a direct and deep contact with the artist, making customized interviews and articles for everyone (and not only as a showcase for images), to make know the artist and his personality in full to the audience.