Muse Media LLC
(halftimemag)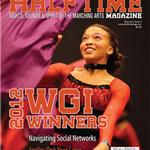 Muse Media, LLC serves student performing artists through two publications: Halftime Magazine and Sing Sing Sing Magazine.

Halftime Magazine presents the sights, sounds and spirit of the marching arts. The bimonthly publication educates, entertains and inspires participants and instructors involved in high school marching band, college marching band, drum corps, winter guard, indoor percussion and all-age groups.

Sing Sing Sing, which debuted in the summer of 2012, is the only lifestyle publication that covers the growing vocal music activities of show choir, a cappella and more. Geared toward instructors, students, parents, alumni and fans, the magazine educates, entertains and inspires readers with profiles, news and events about leading student and professional singing groups. Sing Sing Sing has interviewed stars from "Glee," "Pitch Perfect" and "Off Pitch"; champions from the International Championship of Collegiate A Cappella and the FAME Show Choir National Championship; as well as professional singers Straight No Chaser. If you like to sing, you'll love Sing Sing Sing.