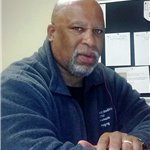 Gearl Diggs is a former Media Specialist and Graphic Artist for the Department of Radiology at Michigan State University. Currently employed at OhioHealth System in Columbus Ohio. In his free time Gearl is a freelance photojournalist for several online media services and a medical photographer.

Served as a Medical Photographer for 12 years at Ohio State University-College of Veterinary Medicine and the Department of Hematology.

A Member of the Biological Photographer Association (BPA), Bio Communication Association (BCI), Health and Science Communications Association (HESCA) and National Association of Photoshop Professionals (NAPP). Over 35 years of photography experience.

A Life member of Phi Beta Sigma Fraternity, Inc.