Funkyum Publishing Group
(Funkyum)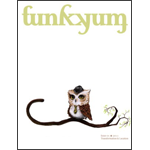 Welcome to Funkyum — a compilation of engaging art, graphic design, photography, typography and words. Every issue we super–collide two juxtaposed themes and present the aftermath for your entertainment and conclusion.

Our mission is to create a space for artistic interpretation and collaboration. By inviting content based solely on two select juxtaposed ideas, we aspire to see what percolates and results from this minimally defined perimeter. Think of this magazine as the alley you don't usually venture down — and your donning a bunny suit, as nature would have it. We hope you scratch your head at least once when perusing.

We donate $1 to a good cause, from each Funkyum purchase. We select a different charitable organization each issue, this time we've chosen Seva Foundation to receive a bit of the yum.

Issue 01: Transformation & Location. Featuring creative work by Adam Benjamin, Daniel Blackman, Jason Chapin, Jim Doukas, Lita Mikrut, Steve Mikrut, Laura Serra, Leila Singleton, and Delve Withrington.