Jenise Reid
(femininebydesign)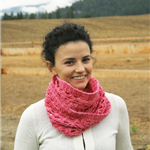 Jenise knits and writes patterns full time. Inspired by everything from her favorite flowers, studies of historical costume, and the clothing she likes to wear right now, there is always plenty waiting to be knit!

Her background drafting custom sewing patterns comes in handy when knitting, as does her experience working in an accountants office. Somehow it all worked together to make knitting patterns a perfect fit.

If you have any questions or comments about her patterns, please find her on Ravelry and ask in her group (feminine by design) or through PMs.