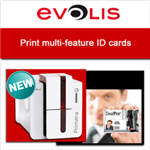 Evolis designs, manufactures, and markets a comprehensive range of plastic card printing solutions.

These card printers are fitted with options for graphic, magnetic and electric (contact and RFID contactless chip cards) personalization of all kind of cards and badges (employee badges, student IDs, payment cards, etc.).

Evolis aims at making plastic card printing widely available and affordable by offering simple, on-demand and customized printing solutions that bring quality to the largest scope of business users.