Eclair Magazine
(EclairMagazine)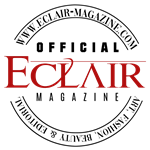 Eclair Magazine is a prestigious publication founded in December 2019 by a dedicated team consisting of both French and American professionals. With our multicultural background, we have successfully expanded our reach in France and the United States, particularly in the vibrant city of New York.
Each member of our team boasts an impressive portfolio, having collaborated with renowned productions and worked alongside esteemed personalities such as Billy Porter. Annually, we are honored to participate in prestigious events like the Tony Awards, Emmy Awards, and the Ali Forney Center Gala at Cipriani on Wall Street.
Drawing upon our extensive experience in fashion and art, we take pride in delivering elegant content that offers a comprehensive journalistic perspective on the most significant news and events of the month. Our exclusive section, "Portrait of the Month," shines a spotlight on exceptionally talented individuals, while our carefully curated selections of Art Fashion, Beauty, and editorials ensure a captivating reading experience.
Beyond the allure of beautiful images, Eclair Magazine strives to enlighten and enrich its readers. As the premier French magazine abroad, we are committed to providing a captivating platform that showcases the very best in fashion, art, and culture.