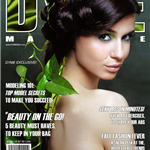 DYME Magazine is Your Voice, Your Image, your Life. DYME Magazine is a Womens' urban based magazine located in Boston, Massachusetts. We travel all over the world networking with businesses, models, corporations and consumers to continue to elevate the success of today's Women. It is filled with Models pics, very useful info, Video, and now the brand new Chat Room put together by DYME Magazine and Myspace! We focus on MUSIC, Womens' FASHION and WORLD POLITICS from the Women's point of view. We are here to help women succeed!
DYME 'Kids' Magazine Nov/ Dec Issue

Print + Digital:

$6.40

Digital:

Free!

DYME Magazine Kids Issue #1 #1 and Only Kids Modeling Magazine! Featuring Kid Models from all over the world! www.DYMEMAG.com

Standard

/

8.25" x 10.75"

Print:

$3.20

Digital:

$2.00
DYME Magazine Summer Issue!

Standard

/

8.25" x 10.75"

Print + Digital:

$13.80

Digital:

Free!
#1 College Lifestyle And Culture Magazine! www.dymemagu.com

Standard

/

8.25" x 10.75"

Print + Digital:

$5.00

Digital:

$2.00