Nakeshia Shannon
(DreamBigMag)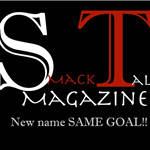 Music, upcoming Fashion, Smack Talk & More! If you get offended Easily it's okay. We don't care anyways.
To Submit to SmackTalk Magazine email -DreamBigMag@gmail.com
follow us on twitter at @SmackTalkMag and the owner at @NakeshiaRenee
Submissions WILL NOT BE TAKEN via twitter by spamming links. They will get you put on a list that will never seen a post or page in the magazine. We're hear to help push people's dreams, but not everyone has what it takes at this point.
For Advertising ONLY Please email – NakeshiaShannon@gmail.com
Find us on Facebook!!