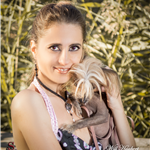 I am a professional published model.

However, I am always open to new ideas, and I take direction very well if needed, and I am always looking to work with new photographers.

I work in a wide range of styles, including glamour and fashion, to swimwear and lingerie, to implied and full nudes, fine art nudes. I have also modeled for some light erotic/fetish work.