Michael Stycket
(CoverModels)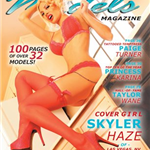 Cover Models Magazine is a high end fashion publication featuring the world's top female swimsuit, fitness, lingerie, and glamour models photographed in exotic locations and multimillion dollar mansions at various USA locations by world renown professional photographer, Michael Stycket.

Many of the incredibly stunning models featured in our magazine are some of the hottest sex symbols in the men's magazine world and internet today. Over 500,000 images of over 1,500 of these models and counting can also be found on the World's #1 Bikini Site, www.CoverModels.com and www.MichaelStycket.com.

Model submissions should be emailed to: photos@covermodels.com or www.facebook.com/michael.stycket or by calling 408-997-9200.