Jamila Choyce
(CourbeeRevolicion)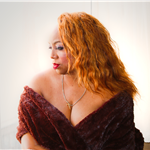 Welcome to Courbee' Exotica
There are over 14 billion Plus Size women (sizes 8 to 28) all over the world. Historically, we have been ignored, marginalized, teased, and out casted by society, social media, fashion designers, film producers, casting directors, advertisers, fashion industry, and Hollywood.
Plus Size Women are 14 billion strong global. Although the average size is 14/16, we have far and few celebrations for SW as beautiful, intelligent, sexy, and being a seductress.
Plus Size talent is slowly emerging to the runways of New York, Milan, and Paris. Moreover, television and other media e slowly but surely embracing Courbee' or the plus size women.
Fat shaming, bullying, sexual assault, and the marginalization f women has come to a fast halt with the #Metoo, #TimesUp, and #NoMore movements. We add to those movements Plus Size Revolution known as Courbee' Exotica.'
JAMILA JAY
In this cutting-edge pictorial, each page is seduction at its best. The ((Art of Seduction" consist of a unique array of photographers and Plus Size Models from all over the United States and Canada.
This pictorial has the trajectory sexuality fantasy and reality intertwine in each image. It is a quintessential perspective of Plus Size Women that has never been immortalize on this level. We have level up, and the visions of Plus Size Models have been capture in their true naturally form.
Courbee' Exotica will have you more to talk about. While this is a certainly an opportunity for Plus Size Women sexuality to be put in the forefront with a positive light, it is not a dirty shameful secret that Plus Size Women have beautiful bodies and there is no shame in our game!