Purple Inc. Kauai
(Coops)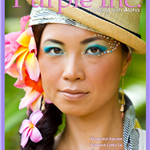 Purple Inc. is a quarterly, digital magazine based in Kauai, Hawaii that explores the island lifestyle.

Purple is the color often associated with Kauai, and its vibrant, royal hue captures the essence of our magazine. Purple Inc. looks at island life from a fresh perspective, especially for women. This new magazine will focus on culture, fun, fashion, fitness, island living and local businesses, and will include beautiful photography. Our goals are: to inspire readers to lead healthy and fulfilling lives, to encourage island sustainability and buying local, and to connect island women.

Brought to you by the sandy-toed divas, Keri Cooper and Lois Ann Ell.