Connie Russert
(ConRussert)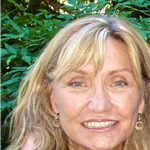 Spirit Channeling found Connie Russert in 1983. She never consciously sought it—as a very conservative, left brained woman, she felt so skeptical that it took her five full years before she believed that her channeling was for real.

Connie began her professional life in 1967 as a computer programmer, working at the Pentagon, and in Germany. From there, she moved into the social services, earning her Master's Degree in Rehabilitation Counseling with the Deaf.

She became a Mental Health Counselor with Deaf adults, a College Professor, and eventually the Program Manager of Disabled Student Services at a San Diego, California community college.

Then channeling found her! Connie moved slowly and cautiously on through what she calls the "Reluctant Channeler" stage, to the "Closet Channeler" stage. Eventually, working two full-time jobs left her so sick she had to take a leave of absence from her college job.

It was time to choose between her two careers. She finally resigned from her 'real' job in 1996, declaring herself a full-time Channeler for Spirit.

Connie feels privileged to be able to deliver channeling services to spiritual seekers around the world. She makes her home in San Diego, CA with her sweet, funny and ever-supportive husband of 25 years, Ron Jacobs, PhD.

More about channeling and Connie's services can be found at www.SpiritChanneling.com and www.DeafRetreats.com.

Think your friends would like this book? Send them here!