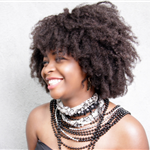 Chloe Graham, college senior at Columbia College-Chicago, began her career with the Common Ground Foundation, a non-profit organization founded by Hip Hop Artist/Actor Common.

From the age of 12 to age 14, Chloe was the foundation's celebrity journalist and hosted "Chloe's Corner" as part of the foundation's literacy program "The Corner" Book Club. Chloe interviewed celebrities each month to emphasize the importance of literacy and education.

Chloe then became the inspiration and first journalist for the Image of Change foundation's national "Covering the Mic" program that featured youth making a difference around the world. During this time Chloe was mentored by renowned reporter, Maudlyne Ihejirika, of the Chicago Sun Times Newspaper.

Chloe was the President of Top Teens of America-Midwest where she won the Miss Top Teen of America contest in 2011. She has been the guest speaker for Girl Scouts of America and ARISE Youth Entrepreneur Symposium on the same platform as Joseph Kennedy, president of Merchandise Mart Properties in Chicago. She currently serves as the GRAMMY U Campus Ambassador at Columbia College Chicago.

The first issue of USTYLEU Mag launched in July, 2011 and has since expanded the magazine to 28 pages, a creative casting director and a talent scout as well as partnered with photographers fashion designers and hair stylists throughout the United States, Australia and France.

While working with at the Chicago Sun Times, Chloe worked side by side with staff photographers and entertainment editors. It was this exposure that made her realize that she wanted to showcase her interest in photojournalism, but use her love for fashion and entertainment as a vehicle to express relevant issues that teens face today.