George Wolf
(boneyardwolf)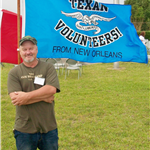 I am a vocational archaeologists(1972), vocational paleontologists(1972) and I have been a vocational historian and writer of Harris County,Texas since 1984 and Family Genealogy starting in 1985.

Harris Co.,Texas Cemetery Web Site: www.freewebs.com/boneyardwolf

Being a native born Houstonian, Herman Hospital (1959). When I was young I lived in the Houston Heights, then we moved to Pease Street and later Bell Street. Went to Cage School K-2 grade off of Telephone Rd. My family left Houston for Pasadena and have been there ever since.